Woo Your Sweetheart with a Designer Necklace Gift This Valentine's Day
January 15th, 2023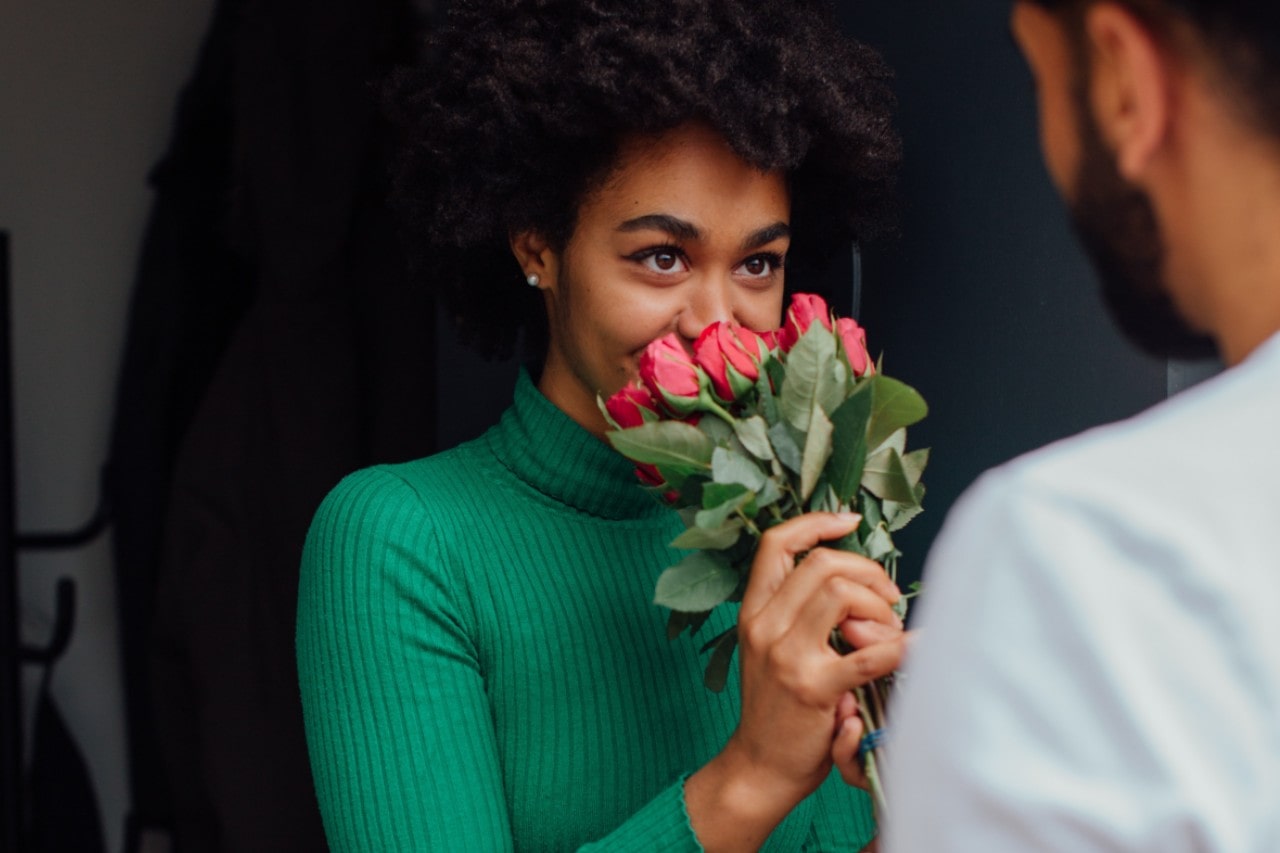 Whether you just met on a dating app or have been together for years, Valentine's Day is sure to spark the feeling of butterflies in your stomach. This day of romance is a wonderful time to put your best foot forward; sometimes, finding the perfect gift to celebrate the occasion can be challenging. Our styling experts at Merry Richards Jewelers have compiled a guide to assist you this Valentine's Day in picking the ideal necklace.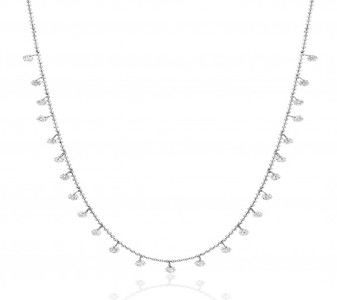 Diamonds for Dessert
If you are planning to take your beauty on a fancy dinner date, go for a classic and romantic diamond necklace. As the old saying goes, diamonds are a girl's best friend, and Valentine's Day is no exception. The expertly cut diamonds in designer necklaces will glitter beautifully by flickering candlelight. These shimmering stones will surely delight your beloved with the most vivid details.
We love this elegant diamond necklace from New York-based designer Brevani. Crafted in 14k white gold, the piece from the Dashing Diamond collection will always stay in style, featuring dangling round-cut diamonds. This necklace is neither underwhelming nor overwhelming. It is graceful yet catches eyes wherever she may wear it.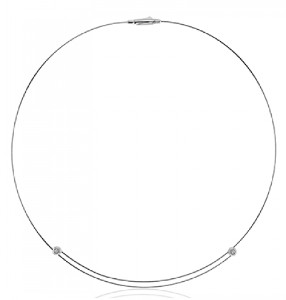 Salsa with a Short Necklace
Taking your loved one dancing is a sensational way to spend Valentine's Day. Ideally, you should choose a comfortable piece that can quickly move as your significant other moves to the beat. Chokers are striking options for a dancing date, as they remain near the body while providing a bold sense of fashion.
This simple choker from Simon G.'s signature SG collection is an ideal selection for your Valentine this year. With a minimal design, the piece features petite, pave-set diamonds that are sure to reflect the light with every spin. Get this necklace in 18k white gold, or opt for one of their mixed metal options.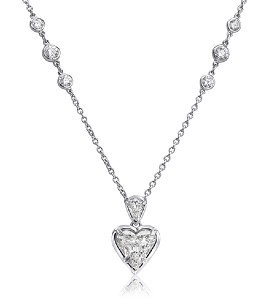 Bring Radiance to Rom-Coms
If you and your date are opting for dinner and a movie, gift her a comfortable yet captivating necklace that will twinkle as the diamonds and the precious metals subtly catch the light and colors from the movie screen. Heart necklaces are an excellent option here, as it classically expresses your emotions. Your beloved will be reminded of the occasion and the feeling you share every time she wears it.
Our experts fawn over this diamond heart necklace from Christopher Designs. Adorned with eight elegantly-cut diamonds, this piece is offered in 14k white gold, 18k white gold, and platinum to suit a wide range of price points.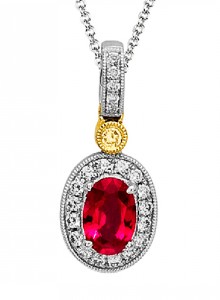 Rubies and Rosé
Wine tasting is a wonderfully intimate way to spend time together this Valentine's Day. Consider seeking out hues that serve as a physical reminder of the date. Maybe your sweetheart prefers a good glass of sweet red, so look into garnet and ruby jewelry. Or perhaps, she gravitates toward an exquisite Pinot Grigio, so consider yellow gold or pale yellow sapphire necklaces.
Simon G. comes through with this oval-cut ruby gemstone pendant. This accessory from the SG collection features a richly-colored ruby paired with a round-cut yellow diamond and accenting diamonds that frame the ruby. This necklace is sure to turn heads at the winery.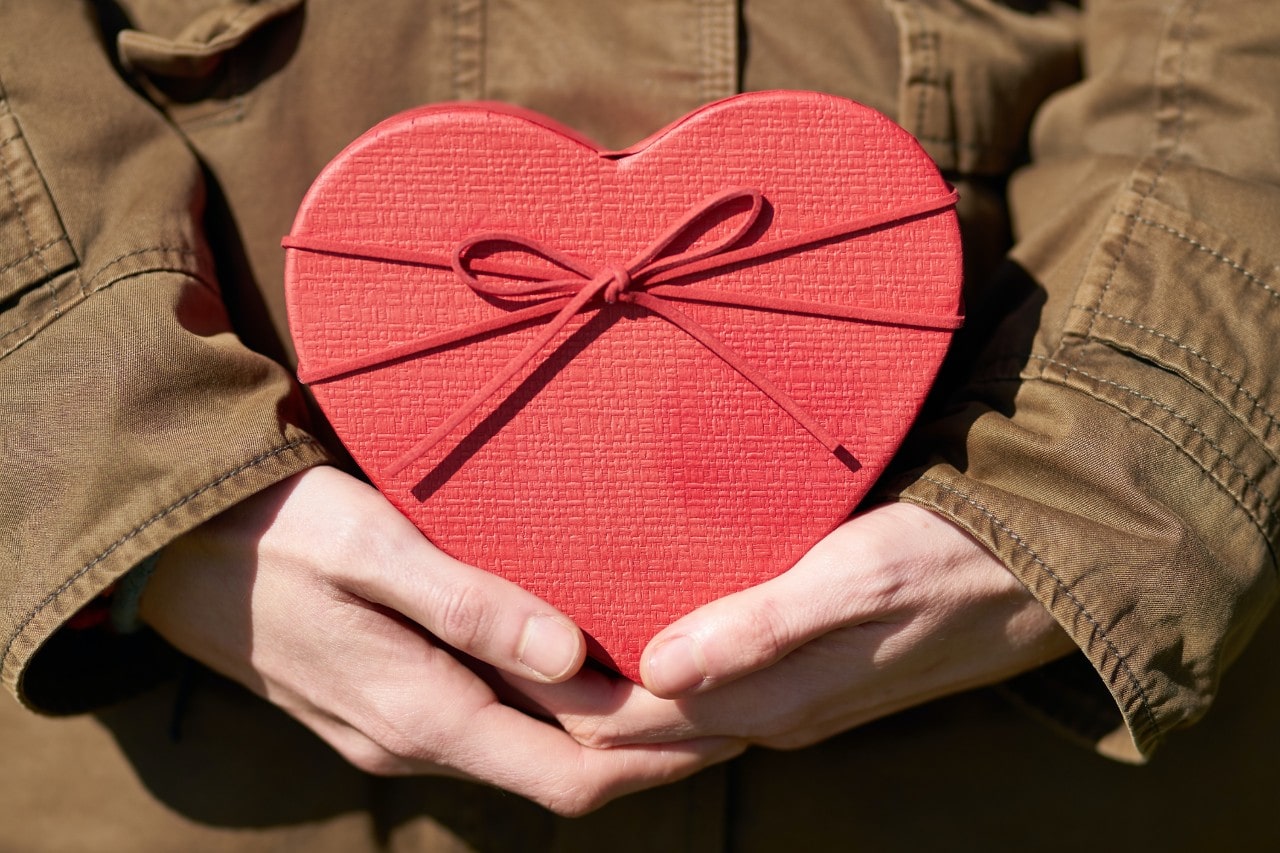 Find Valentine's Day Gifts at Merry Richards Jewelers
Founded in 1985 by two diamond experts, Merry Richards Jewelers is dedicated to bringing only the finest sources of luxury to the Chicagoland region. Our jewelry professionals are happy to guide you through our carefully curated bridal and fashion jewelry selections, accompanied by the highest quality loose diamonds housed in our fantastic showroom. Together, we can find the perfect piece to suit your Valentine. Still struggling to find a gift that is just as unique as your lover? Consult with our gemologists and goldsmiths to design your own jewelry. Contact us at our Oakbrook Terrace, Illinois location to begin your shopping experience today.