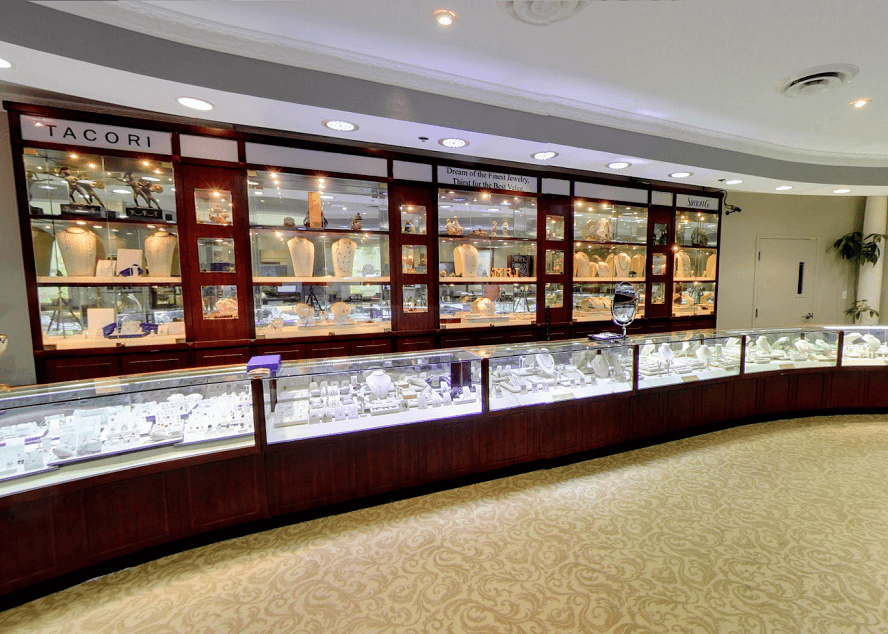 OAKBROOK TERRACE
17 W. 300, 22ND ST.
OAKBROOK TERRACE, ILLINOIS,  60181

TELEPHONE NUMBER:
1-630-516-8000
OAKBROOK TERRACE HOURS:
FRIDAY: 10:30 AM - 6:00 PM
SATURDAY: 10:00 AM - 5:00 PM
SUNDAY: CLOSED
MONDAY: 10:30 AM - 6:00 PM
TUESDAY: 10:30 AM - 6:00 PM
WEDNESDAY: 10:30 AM - 6:00 PM
THURSDAY: 10:30 AM - 6:00 PM
ABOUT US
Welcome to Merry Richards Jewelers, where excellence, integrity, and a commitment to our cherished customers are at the heart of everything we do. As a premier jewelry destination, Merry Richards has earned a distinguished reputation in the bustling world of jewelry, setting itself apart by wholeheartedly catering to our loyal clientele. Whether you seek a stunning new piece of jewelry, require a repair, appraisal, or simply seeking expert advice for a family heirloom, Merry Richards is your trusted full-service jeweler under one roof.
At Merry Richards Jewelers, we believe that every jewelry piece should embody unparalleled quality, exquisite craftsmanship, and outstanding value. That's why we recently underwent a million-dollar renovation in 2003 when we moved to our Oak Brook location, combining traditional boutique styling with modern amenities and accents, creating an ambiance that befits our status as Midwest's foremost diamond facility. As you step into our store, you'll be greeted by sleek layouts, adorned with beautifully displayed merchandise in natural accented wood cases. For an even more personalized experience, our private diamond area awaits, where our dedicated team members will assist you in finding the perfect stone and setting with utmost care and expertise.
Our collection is a reflection of the diverse tastes and preferences of our valued customers. While we cater to the informed, intelligent, and affluent, boasting highly desired brands, prominent designers, and an extensive inventory of exquisite diamonds, we take pride in having something for everyone with our ever-growing range of high-quality merchandise. At Merry Richards Jewelers, there's no judgment, and you'll never see an employee's upturned nose when discussing your budget. Our team, led by Merry and Richards Cheng steeped in tradition—adhere to a result-oriented yet approachable management style. We are here to educate, care, and build lasting relationships with each customer, regardless of their background or preferences.
When it comes to servicing your precious jewelry, Merry Richards Jewelers has got you covered. Our skilled in-house jewelers work tirelessly every day to repair and refurbish your most treasured pieces, and they are also available to create your very own one-of-a-kind masterpiece. With an unparalleled blend of dedication and craftsmanship, these artisan jewelers have earned accolades from delighted customers and even local insurers, who trust us for efficient replacements and repairs.
For the perfect diamond or that exceptional gift of jewelry, for individuals from all walks of life, follow 22nd St. until you encounter our grand, scripted sign: Merry Richards Jewelers. Across the street of Costco