How to Layer a Stunning Diamond Necklace
August 9th, 2017
Diamond necklaces are a special piece of jewelry to say the least – they fit well with any attire and belong at any event. It is a statement piece that ensures you stand out. Yet as popular as a diamond necklace may be among fine jewelry fans, it's a piece that comes in countless varieties. A diamond necklace can be a simple piece, dangling from a thin chain of precious metal. It can be a heavy piece, meant to make a statement with gemstones, intricate detail, and significant weight (fashion-wise, of course). It can also be a pendant, meant to sparkle and shine with a single dangling design.
No matter its style, aesthetic, or design, a diamond necklace is meant to stand out. Quality diamonds set against any neckline capture light, shimmering and framing the wearer in a bouquet of sparkle. A diamond necklace is always and forever chic. However, wearing this piece of jewelry can captivate in entirely new ways when worn as a layered set. Here's how to style multiple gemstone-laden pieces from Merry Richards Jewelers in the Chicago area.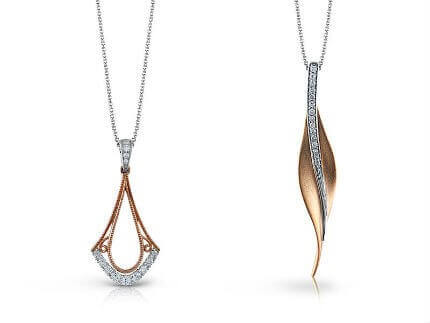 Go Traditional First
The first step of layering is to choose a favorite diamond necklace. Select your favorite pendant, choker, or other styled necklace, and use that as the base to your entire look. A diamond necklace comes in many different styles, and none is better to begin the layering look than the one you prize the most. No matter the design, length, or other qualities, pick the one you'd like to be the star of the show. All your layered necklaces will center around this piece. Standout options like Simon G. designs Vintage Explorer MP1596 or Garden DP113-R are perfect options.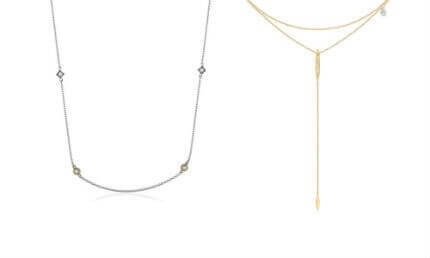 Add a Longer Necklace
Your next layering step is to choose a necklace that's longer than your favorite piece. This ensures you'll have a piece that's below all others added later on. The longer, or longest, diamond necklace should reach past your shirt's neckline. An important factor in choosing your longer-length necklaces is delicacy—a longer necklace should be a more delicate piece to be certain not to detract from the central, and first, diamond necklace. Choose a necklace such as the Simon G. Modern Enchantment CH103 or TACORI The Ivy Lane SN214Y to add detail as well as delicacy to your layered diamond necklace look.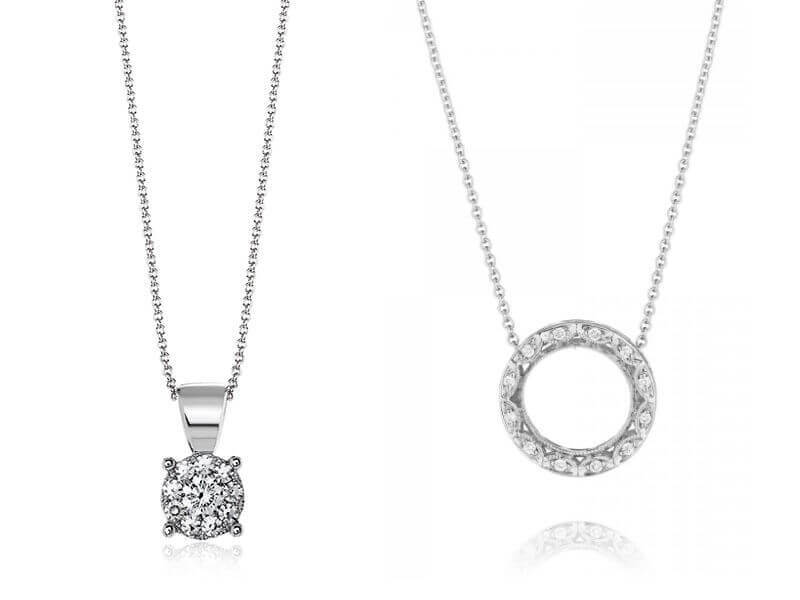 Balance Long with Short
Once you've added a long statement piece, the next necklace you should layer is a short and simple diamond option. Short necklaces come in countless variations, and absolutely any style will work. Aim for a piece that's shorter than your first necklace layer, as you need it to be the closest necklace to your actual neck – but it doesn't need to be an actual choker. Instead, aim for a necklace that sits right at the collarbone to accentuate the face. A diamond necklace like the Simon G. Mosaic MP 1832 or the TACORI Classic Crescent FP508 is the perfect gem to sit right at the collarbone for the shortest layer.
Discover the Many Layering Possibilities with a Diamond Necklace from Merry Richards Jewelers
If it's fine diamond jewelry you seek, as well as a beautiful diamond necklace, Merry Richards Jewelers is the best place in the Chicagoland region to shop. With a name that's synonymous with the finest cut diamonds, Merry Richards Jewelers is home to a selection of exquisite jewelry unlike anywhere else in the Chicago region. With more than three decades of experience in fine jewelry, this retailer knows what makes the absolute best of the best in diamond necklaces. With only the highest quality GIA Certified diamonds used in every piece, Merry Richards Jewelry is home to the top of the line jewelry for every season. Visit one of our two locations in Oak Brook Terrace or Glenview, browse our online inventory, give us a call at 847-480-8988 or 630-516-8000, or send an email to either obt@merryrichardsjewelers.com or glenview@merryrichardsjewelers.com today to discover more about our diamond necklace selection.