Curate Your Wedding Band Stack Like a Pro with These 5 Gorgeous Wedding Rings
April 1st, 2019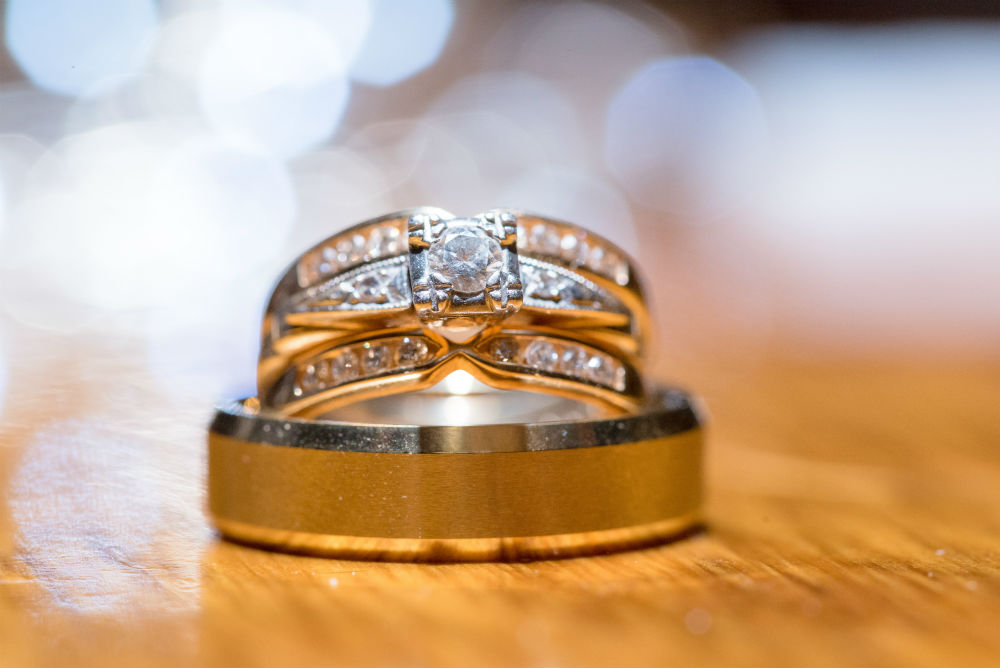 A big thing for women lately has been the "layered" look. Pairing jackets over cardigans over shirts; blouses over dresses; dresses over dresses, and so on. There's been a real passion for curated messiness lately, and jewelry hasn't been exempt from this. But instead of raiding donation stores for handfuls of retro bracelets, how can you embrace stackable chic without giving up luxury?
More and more often, designers have been creating stackable wedding bands that are perfectly designed to cradle additional rings and bands for a mix-and-match stack you're sure to love. Here, we're going to come up with some ideas for your stackable future:
Bold Colors

Stackable jewelry works best when you find pieces that contrast or complement each other. If you've purchased a wedding band that really celebrates luxury, such as this piece from the Christopher Designs Crisscut Emerald collection, where the whole ring is inlaid with long emerald-cut diamonds, what do you do? Pair it with something that compliments its boldness with something it might lack. In this case, pure white diamonds may pair well with a multicolored gemstone ring—adding a whole rainbow of colors will make the clarity of the diamonds stand out even more.
Elaborate Shapes
Alternatively, what can you do if you have another Christopher Designs wedding band that tends towards multiple shapes, like this style from the Crisscut collection? It may be difficult to pair a stackable ring with the round- and oval-cut diamonds in this delicate 18k white gold band, so don't try to contrast it. Compliment the grace in its multiple cuts of diamond with rings that share oval and circular shapes. If you don't want your stackables to steal too much attention (and who would with their wedding band!), pick a stackable ring made of a completely different tone of metal and with less lustrous stones.
Texture
With our Merry Richards Collection wedding band made in-house, we strove to have a band that was so rich with round-cut diamonds in a decadent platinum band that it would seem like a ribbon of pure light tied around a woman's finger. The best way to stack another ring with this one would be by capturing light in a different way: Wear a band made of repousse-hammered silver; or a satin-brushed copper ring. In any case, you create fascinating channels through with light can travel.
Minimalism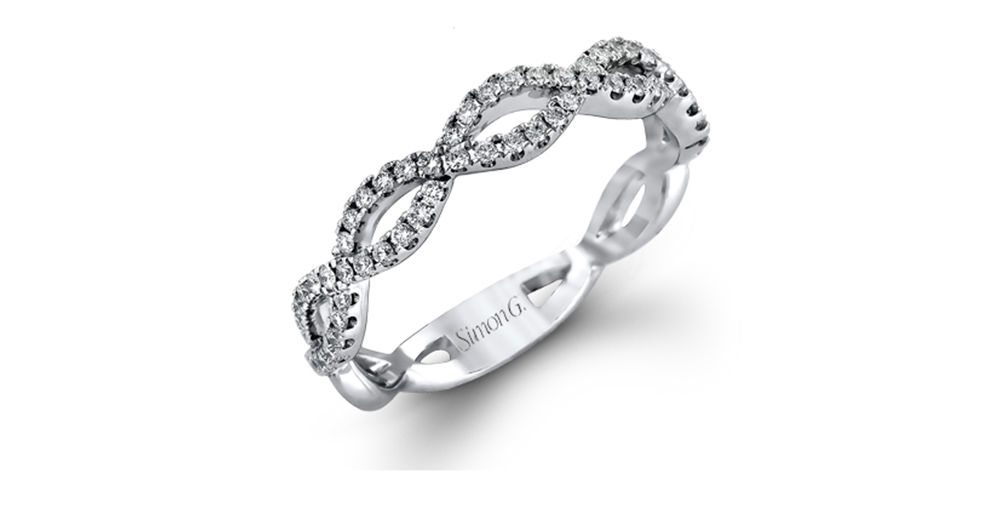 Alongside the stackable DIY look, minimalism has been a really big aesthetic for women lately. When you pare away extraneous details, you can condense elegance into a small amount of space like a spring. If you have an eye-catching stackable ring with twisted shanks that's studded with pave-set diamonds, like the Simon G Classic Romance collection wedding ring? Aim for something thin and graceful that carries a lot of punch in its smallness, like a thin gold band with a single garnet set in it.
Maximalism

Despite minimalism being a powerful aesthetic choice, maximalism—or the conscious choice to make a mosaic out of many smaller pieces. And of course it should be popular! We've been talking about this whole time: Curated messiness is a kind of beautiful irony that arises from maximalism. If you have an extremely minimalist, beautiful piece of jewelry, like the clean 18k white gold band from the TACORI Sculpted Crescent collection, its demureness may pair best with something loud and unexpected. A chunkier fashion ring? Your cutest Hello Kitty ring? The sky's the limit!
To learn more about the wedding ring styles available at Merry Richards Jewelers, get in touch with a member of our staff today!